There are several ways to get materials in the game. Asking a Friend, and "Harvesting" the materials yourself are the two predominant ways.
Some materials are only attained through asking friends. In this example, Flames for your Small Campfire — all you must do is click "Ask Friends" and then confirm a message that will appear on your profile for a friend to click and send you the item.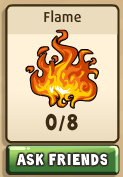 Game Tip: When you send an item to a friend by clicking the link on their profile, it's given to them as a gift through the game. You will not lose the item from your own inventory.
Another way to attain materials is through "harvesting" Forest Escape items. For example, you may need Nails for quests later in the game — these may be attained by harvesting, or collecting from, your Workshop every 45 minutes.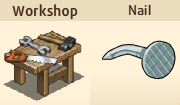 These items are "difficult" to attain, but not impossible. Some users believe they may be "stuck" when in reality they are not, the number of items needed may take some time to collect.